DEFINITELY DIXIE'S!
TRADITIONAL BUTTERCREAM TASTE, LIGHT & FLUFFY TEXTURE
NOT TOO SWEET, NO GREASY AFTERTASTE
PERFECT ICING FOR JUST SPREADING OR FANCY DECORATING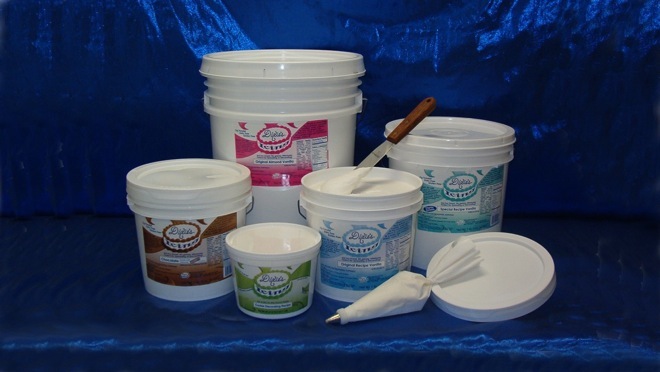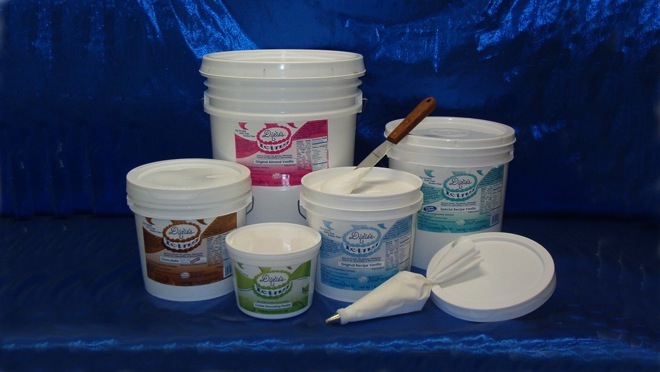 Homemade Icing Taste, Pre-made Convenience!
Dixie's Icing has the rich taste and quality ingredients of buttercream icing, with the light consistency of whipped icing. It's the perfect icing for decorating cupcakes, birthday cakes, wedding cakes, or just easy frosting for spreading on your family cakes and cookies.
Dixie's Icings are manufactured in five varieties to meet taste preferences, decorating needs, and dietary controls.
Available in pure white, Hershey's chocolate, or 24 vibrant colored icings, including red and black; all with no bitter aftertaste.
---
About Dixie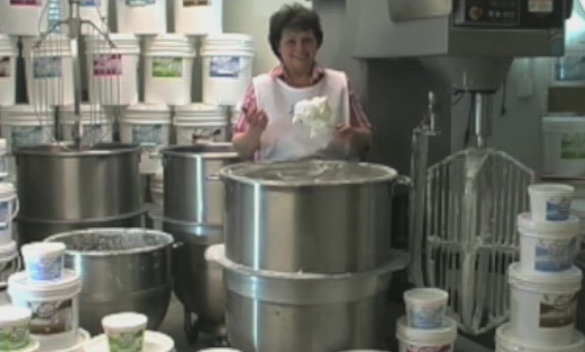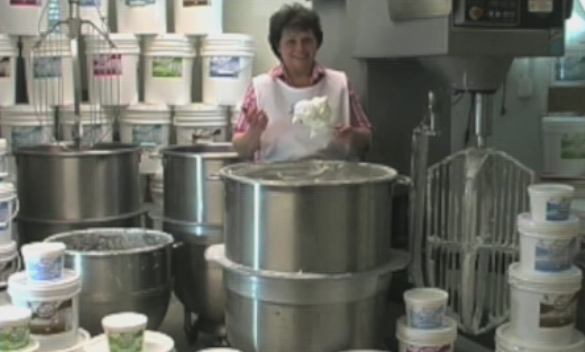 I am often asked how I got into the Icing Business. My answer is always, "quite by accident!" Here's a bit of history.
My parents were married in 1930. My dad was a master baker/decorator, son of German immigrants who owned and operated a family bakery in Chicago. By 1950, when I was born (the 6th of 8 children) my dad was an electrician. As time went on he had less time (and desire) for baking – even baking for family events. When I was 12 years old, my mom decided she would learn to decorate the family special occasion cakes herself. She and a friend enrolled in an eight week cake decorating class. The evening of lesson number seven her friend was ill. Not wanting to go to class alone, Mom asked if I would go with her that evening.
My mom was a great crafter – could follow patterns to make anything, but she was not a creative artist. That talent was Dad's, and it seems, mine. She was on lesson seven and I on lesson one, but my decorations were much better than hers. She made me an offer. She would bake and and prepare everything if I would decorate the cakes for her and she would pay me 50¢ for each decorated cake. A decorators dream – all the fun and glory – no cleanup duty!
Not only were we from a large extended family, but mom was very involved in Church and PTA … all those bake sales! I got lots of practice- and praise. By the time I was 16 years old Mom was volunteering us to make the wedding cakes for a multitude of cousins. Dad stepped back in and taught me how to balance and support the cakes. Orders just grew from there in typical word of mouth fashion. People at various events would say, "Oh, that's beautiful …. would your daughter be willing to make a cake for my special occasion coming soon?"
Besides the first lesson with Mom, I also tagged along for the last lesson of her class. Those were the only two lessons I ever had, creating my own way of decorating as was needed. As a kid, I was pretty into those Baker's Cut-up cakes.
We lived about thirty minutes from the original Wilton Cake Decorating Supply Warehouse and Showroom on Chicago's south side. Mom would often let me drool over the beautiful cakes in the many glass display cases while she bought cake decorating supplies. I soon graduated to the Wilton shaped pan cakes. In my late teens I started devising three dimensional shaped cakes. "Sculpted cakes" soon became my specialty, along with wedding cakes.
Baking and decorating cakes remained a home based passion in the 1970's through the early years or marriage and raising three small children and moving to Omaha, Nebraska in 1980. I decided to "go pro" in 1989 opening my bakery, Dixie's Cakes and more, inc. The "and more" included a One Stop Wedding Shop where we sold invitations, bridal shoes, rented tuxedos, coordinated the balloon decorations, table linens – all aspects of the big event. But the first love was always the wedding cakes. By now my young daughter, Nicole, was a excellent decorator and a very important member of the team. My sons, Christopher and Nathaniel were an integral part of the delivery team. As the wedding cake division of the business grew to an average of six to nine wedding cakes every weekend – many weekends twelve to fifteen wedding cakes, we gave up the other aspects of the business, even the party cakes.
I knew many long time customers would be disappointed not to have my special occasion cakes any longer. One of the most loved features of our cakes was my light buttercream icing, developed during my teenage years. Also, the children were preparing for college. That's when the idea came out of the blue to market the icing.
Now THAT was a whole new experience! All those labeling laws, product analysis, UPC numbers – not to mention completely different equipment from baking! There were definitely times I wondered "Just what was I thinking?" At first I was only manufacturing the icing I always used on my cakes, … the Almond Vanilla Flavor which won us a blue ribbon for Best New Nebraska Bakery Product in 1994.
In response to customer needs and requests, production grew to five flavors- the Original Almond Vanilla and Original Recipe Vanilla Flavor, Special Recipe Vanilla Flavor, Chocolate Icing, and Cookie Decorating Recipe Icing … PLUS 24 pre-colored icings!
None of these business changes were really "planned", they just evolved according to life's circumstances . From a local baker to a food manufacturer calls for constant willingness to adapt to change.
Over the past five years I have also been teaching cake decorating at our local community college. I've received very positive responses from my students. My methods are different from most others, since I made my techniques up as I went along, but they are uncomplicated and to the point.
During the past two years I have been learning more about the technology side of the business – producing my promotional video and building this website, which I hope you find useful and which I plan to further develop.
Now I would like to combine the teaching, the technology and the decorating skills to produce videos on decorating techniques and flower making … all in buttercream. While attending a cake show, I was surprised to learn so many of the local decorators didn't even know how to make a rose! They could cut and assemble petals into a rose from various media, but they had no idea how to twirl the flower nail and truly create. We have to keep the tasty, elegant, old fashioned, and handcrafted decorating techniques alive. It may take a while to accomplish my plan, but keep alert for upcoming on-line instructions.
Tastefully yours,
Dixie Bettini